After far too long away from the Balcony Bar, Shakers One and Two got together to celebrate (somewhat belatedly)  two very important events:  Shaker Two's Birthday and the one year anniversary of The Red Shaker Blog!  Awww, they grow up so fast don't they?  It seems like just yesterday we were picking out a name…….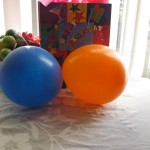 Back to the shaking shenanigans.  We were joined by two lovely guests to help us try out a few new martinis.  On the menu, some old favorite treats from the first year of the blog:
Gougeres, shrimp cocktails, stuffed mushrooms and vichyssoise! (YAY!! some of my favorite niblets from the Shaker One kitchen!! ~Shaker Two)
We began the evening with a champagne toast.  If you're looking for a lovely bubbly, this is the one to try. Marc Hebrart Brut!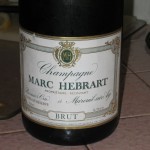 Our first 'tini of the evening was The Pineapple Basil Martini
"Refreshing" "The basil made the pineapple taste more mild" "An interesting touch"
Shaker One and our two guests enjoyed this a bit more than Shaker Two (who is not the biggest basil fan out there)
3 3/4 to 4 olives from S1 and guests, 3 1/2 from S2.

Next up: Rosemary Ruby Cocktail
I know, I know- it's from Rachael Ray.  Cast aspersions at will.   I can guarantee you neither Shaker One nor Shaker Two has ever been considered perky.
The consensus here was enjoyable, but a bit too sweet.  It needs to have more grapefruit flavor, perhaps a splash of lime juice to brighten it up and definitely dial way back on the simple syrup.  Pleasant, but as one taster put it "it smells better than it tastes".
As written 3 olives…..needs improvement.
We moved on to a take on The Rosemary Lemonade Cocktail– martini style.   I found this recipe in the comments section here
A refreshing cocktail, but needs more lemon.  We all agreed it would be fantastic over ice as a summer sipper.  Shaker One says this could be the beginning of a beautiful friendship with iced tea for an herbal Arnold Palmer.
As written 3 olives, over ice 3 1/2 +

We ended the evening with a special birthday cake made by Shaker One. (soooooo awesome and soooo tasty!! I hated to cut into it!!)
All in all a  lovely evening and a wonderful double celebration.  Thanks to Jenna and Lyndsey for helping us taste, rate  and mark our first year of martini madness.  Here's to another year of searching out the best things you can put in a martini glass.