Rather then toss tea into the Bay, The Red Shakers opted to revisit an old friend and start our festivities with the Earl Grey MarTEAni. As the whistling and bangs from neighbors lighting off fireworks began, we gathered to celebrate the 234th birthday of declaring our independence.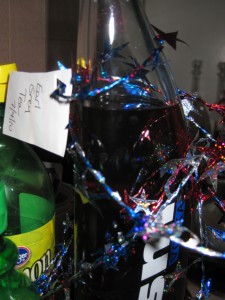 After a long couple of weeks, a relaxing night was very much welcome. The Shakers combined forces to make a little snacky assortment of French Fries, tri-tip mini-tacos with cumin cream and roasted peppers, macaroni and cheese and roasted corn with jalapeño butter and cockdoggies – a lovely little tapas style dinner.
The Earl Grey MarTEAni did not disappoint second time around, but we also had to add another martini to our roster of recipes, so onto a new recipe: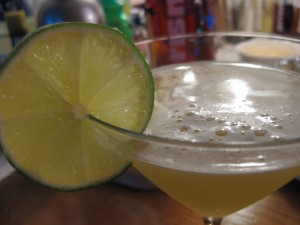 This was a tasty concoction that was light and not too overpowering in either sweetness or pineapple. The lime was a nice counter to the natural sugars in the fruit.
The Shakers concur, this one rates 4 olives. A really nice summer drink.

Next on deck is a Shaker One Creation (and people, let me tell you, she has moments of sheer genius)
Spicy Lemon Drop Martini
This zippy, kicky concoction is a huge dose of awesome. The perfect balance of sweet and spicy. Basically, it is a cayenne and lemon simple syrup mixed into a martini. Smiles all around and taste buds overwhelmed with glee.
4 3/4 olives for this one.

Dessert was a spectacularly patriotic duo of red, white and blue dipped strawberries and red, white and blue mousse. Both were festive additions to our little celebration. Kudos to Shaker One (as always) for being so creative with the presentation!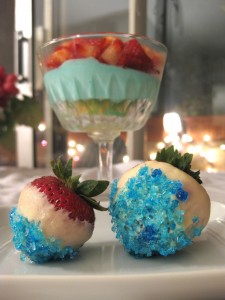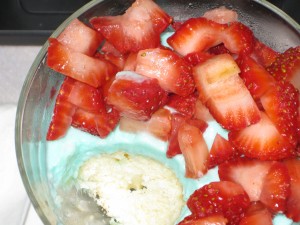 Our evening draws to a close and the fireworks are bursting in air. Happy Independence Day and cheers to you.
Oh, and one more thing.. be gentle with martini glasses when drying… those stems can break when you least expect them. This is when you appreciate that lovely first-aid kit your mom said needed to keep around. 😉