Hello fans of all things effervescent.  Shaker One is back with yet another prosecco for you to try.  You may ask, "do you do nothing but sample proseccos in your spare time?"  Well, I do cook as well.  :/
Here's another from my beloved Trader Joe's: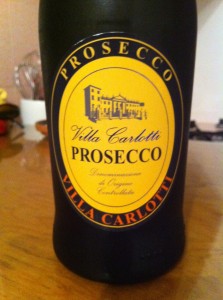 Villa Carlotti Prosecco.  Similar price point to my old pal Zonin.
I tried this one straight-no berries or additions.  It is a dryer bubbly, balanced and pleasant with a hint of apricots.  Oh man, now I sound like one of THOSE wine people.  Stop me.  Anyway, I enjoyed it and it has earned itself a seat on the bench.  If Zonin goes out of the game, I'll send in this sparkler.
Now go pour yourselves a glass of something fun.