Shaker One here, sorry for the long hiatus from blogging.  No, The Shakers haven't turned into teatotalers or abandoned our little blog.  Real life work and nonsense have kept us both away from here for far too long.  But no more!  There are cocktails out there crying out for us to imbibe and review!  What kind of Shakers would we be to let all those poor orphaned drinks go without a home?
Thirsty Shakers, that's what kind.
So last night I met some friends at a local restaurant  – The Spanish Kitchen.  Located in the heart of West Hollywood, this little gem of a place charmed me from the start.  We were immediately greeted warmly by the hostess, shown to a booth and then the fun began.
Now, you may be asking me why is a martini blog reviewing a Spanish restaurant?  Well Shaker fans, we're about to talk about one of my favorite non-martini cocktails:  The Margarita!
I'm not talking about those crappy  overly sweet sippers of "mystery mixer" and cheap tequila you get at chain restaurants.  A really good margarita is a vacation in a glass.  Whether you like them blended, rocked, salty or not, the margarita is a classic cocktail.
I spent an entire summer learning to craft my perfect margarita at home.  My hands were perpetually sore from squeezing so many limes, but it was worth it.  Last night's margaritas put my efforts to shame.  The Spanish Kitchen has taken the humble margarita and made magic.  Are you sitting down?  They infuse their own tequila.  Yep, fresh fruit and peppers in a quality white tequila take the drink from "wow" to "sweet mother of salsa bring me three more now!".
I tried two of their most popular-
La Chiquita:  a delicious mix of tequila infused with fresh strawberries, pineapple and kiwi, fresh lime and cointreau.  Subtle, yet all the fresh fruit flavors come through.  I loved this drink.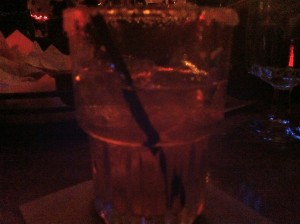 Next was a margarita with habanero infused tequila (apologies-I've forgotten what they call it)
This one is spicy!  Really spicy, but still refreshing.  Delicious.
We also sampled a few of their dishes.  My favorite was the Borracho Tequila Shrimp.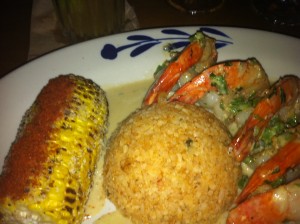 Even the crustaceans here like their tequila!
And speaking of, there is also a nice selection of tequila by the glass and both red and white sangrias.
The service was outstanding, the food delicious, the decor was charmingly festooned with a little early Halloween fun and the drinks were top notch.  Shaker One gives this place a big thumbs up.  And I'll be back for Taco Tuesdays!