So I'm sitting at my desk doing work-related things and my doorbell rings.  Huh, not expecting anyone at 5pm on a saturday afternoon.  "Fedex delivery, we're gonna need an adult's signature for this".
Well, technically I suppose I qualify.  But I didn't order anything….and it seems to be booze.  Can it be?  Is the mythical Wine Fairy real??
I opened the carton and unwrapped some wonderful new ingredients: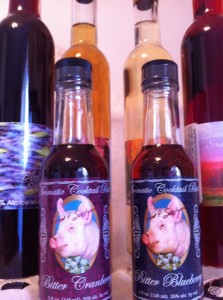 Fruit infused dessert wines and bitters from a small manufacturer in Maine.  A few emails later, I discover to my delight that one of my Sisters, while in Maine, did a tasting and decided I needed to experiment with some fun new ingredients~!
I can't wait to see how these play with summer fruits.  And two new bitters!  I do love the special magic that just the right dash of bitters can add to a cocktail.
Sorry, no wine fairy.  But even better~inspiration in a box, completely unexpected.  Stay tuned for what I dream up with these.
And thanks Lynda!!