It's that time of year Shaker fans, when family and friends gather to celebrate, medicate and otherwise tipple with less restraint than usual.  And for some of you, it's also that time of year when seasonal ingredients warm your chilly toes.  In the spirit of the season, Shaker One has created some new winter/holiday cocktails.  This one was the hit of a recent Christmas cocktail party:
The Pear Cide-car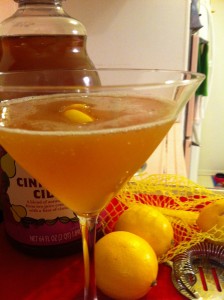 This is my take on the classic side car.  To complement the spiced pear cider I subbed in brandy for the more traditional cognac.
1 oz Brandy
1 oz Triple Sec or Cointreau
2 oz Trader Joe's Pear Cinnamon Cider
1 oz freshly squeezed Meyer lemon juice
Shake all the above over ice, strain and garnish with a bit of the lemon rind.  If you can't get your hands on meyer lemons you could use regular ones.  But please search for the meyers…..they are a lovely addition to the pear.
I can also see this delicious as a warmed beverage, served in a mug with a stick of cinnamon garnish.
Grab some of the TJ's Pear Cider.  It's a seasonal item, so don't wait.
Cheers!