Shaker One here.  I was recently invited to meet friends for Happy Hour at a local watering hole in a familiar location.  Formerly Saints and Sinners, the place has been gifted with a complete remodel and theme change.  I've been curious since I saw the new sign go up, but this was my first opportunity to pop in and check it out for myself.
Now Saints and Sinners was a fun, wackily decor-ed local spot with something of a hit and miss crowd.  My biggest complaint was that their cocktail menu wasn't to my liking.  So while I knew I'd miss the fire pit and crazily adorned statuary I was eager to see what the owners had brought us with this incarnation.
The new Oldfields on Venice Blvd just East of Sepulveda is a revelation.  Styled as an old school "liquor room" it is a haven of laid back elegance with a bit of a vintage feel accented with classic racing photos (its named after the racer Barney Oldfield).  We walked in and I immediately fell in love.  And not just because I can stumble back home afterwards.  While I'll try a place once for convenience, Oldfield's is somewhere I plan to call my local hang.
The bar is extremely well stocked with interesting beers on tap and an impressive array of the hard stuff-especially whiskeys and gins.  But what make my little heart go pitter patter was the new cocktail menu.  Fresh ingredients in truly creative combinations, this baby was the result of someone's hard work.  And it pays off, oh boy does it.   I first ordered from the happy hour drink specials- The Blitzen Benz.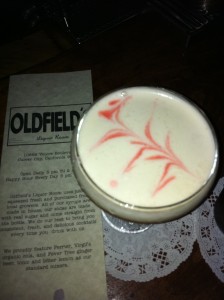 For my first taste of Cynar this was a hit.  And Shaker One loves her flips.  I must be sure to mention that all night the service here was exceptional.  Every drink I watched was made with care.  These folks are serious about giving you a good cocktail experience.
Next I tried The Outlaw (sorry, no pic)- sort of a spicy margarita type beverage.  Very tasty.  After such a promising start I wandered up to the bar and did one of my favorite things to do at a bar:  asked the bartender to surprise me with something.  Sit down kids, for what showed up in front of me was easily the very best cocktail I've had all year.  Not on the menu, ask the bartender for a "Nikita's Bees".  I don't know exactly what was in this (a gin based drink with a lovely almost floral aroma and a smooth flip finish) but it was so perfectly balanced and delicious I smiled while I sipped.
I can't wait until Shaker Two comes back out this way so that I can introduce her to this lovely local gem.  Kids, if you're in the Westside and in the mood for a well made cocktail in a cool and welcoming environment do not miss this place.
If Oldfield's was a martini, I'd give it 5 olives.  Now who wants to go back with me for another Nikita's Bees?