Did you guess?  Shaker One has begun making her own cranberry liquor.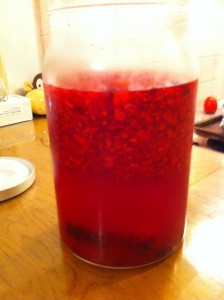 While browsing thekitchen.com at apartment therapy (I love that site, it's a daily stop of mine), I ran across a post on making your own cranberry liquor.  I love cranberries.  My great grandmother would finely dice cranberries by hand to make her holiday cranberry relish (imagine the labor in the days before food processors!).  I like to make a cranberry martini using her relish recipe around the holidays.  But when I saw the post I thought, 'hey, wouldn't cranberry liquor be a lovely addition to champagne?  Sort of a holiday champagne cocktail!"……..so off I went to the store for fresh cranberries.
The recipe couldn't be easier.  Simply add chopped cranberries and simple syrup to vodka and leave in the fridge for 3 or 4 weeks, shaking or stirring every other day or so.  I added a cinnamon stick, a vanilla bean, the rind of part of an orange and a couple of cloves to give it a greater depth of flavor.  The shot above is from day 2.  Right away the cranberries imbued the liquids with a lovely deep red color.  When I first mixed everything together all I could smell was the vodka.  Now after 2 days I'm beginning to smell the cranberries as well.  I can't wait to sample it, which I plan on doing at the end of each week-just to see if any adjustments are needed.
I'll check back in in a week or two to let you all know how it's coming along.
Of course, now all I can think about are cranberry champagne cocktails.  Sigh. Oh well, I'm told patience is a virtue.
Cheers~