The June gloom in Southern California has finally abated and warmer weather is upon us.  Lately Shaker One has been on a spicy/Mexican food kick.  I bought an enormous bag of jalapenos and made seriously fantastic pico de gallo which I've been putting on just about everything.  But my proseccos or even my lambruscos just didn't seem like the right beverage to accompany all these tasty taco treats.  Not in the mood for a margarita, not tempted  by the Pacifico in the fridge……..I spied a pineapple and had a flash of inspiration.
The Spicy Pineapple Martini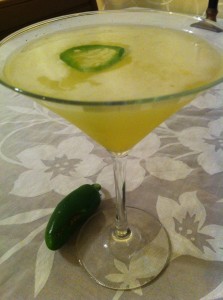 Chunks of jalapeno peppers, fresh cut pineapple, the juice of one lime and simple syrup muddled up.  Added vodka, a bit more lime juice, ice and shake that baby like a  maraca~
Garnished with a sliver of jalapeno pepper (seeds removed this time), this is a really fantastic cocktail.  Totally refreshing.  All the tart sweetness comes from the natural juice of the pineapple and you get just a hint of heat on the finish from the jalapeno without being overpowered.  The lime juice provides the perfect bridge between the two flavors.  I love this.
4 1/2 olives.
Can't wait for Shaker Two to give this a try and tell us what she thinks.  Hasta luego!