As time grows near for Shaker Two to leave  Planet LA, we're revisiting a few of our favorite martinis.  Both of us have been craving this one in particular.
The Earl Grey MarTeani: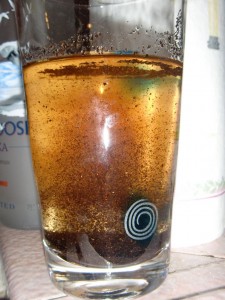 You've seen it here more than once…….a lovely blend of tea infused vodka, lemon, simple syrup, and an egg white for that soft foamy layer on top.    All at once soothing and relaxing.  Shaker Two wonders if she should consider replacing her English Breakfast Tea with one of these each morning?  I say yes, depending on what your day brings.
If you haven't tried this drink yet, please do so without delay.  A five olive masterpiece.

(and for those of you who don't care to click through the link, quick recipe below:
In a Boston style shaker with ice add:    1 1/2 ozs. Earl Gray Vodka infusion
3/4 oz. fresh lemon juice
1 oz simple syrup
one egg white
Shake vigorously, strain into glass, garnish with a lemon zest or slice.  Double for larger martini glass.  Now, go click the link for infusion details!)
No scones necessary.