I was recently at a friend's house and she offered me a beverage. Knowing her gifts in the kitchen, I easily accepted to see what she had come up with cocktail wise. As she was pulling out various bottles, she handed me a little bowl of cherries and told me to try them. I'm game, so I popped one in my mouth, hoping it was not one of the typical sad little maraschino cherries… I really should trust my friends – it wasn't.
I could not quite identify the liquor they were soaked in. There was a bite along with the sweet cherry – but nothing too insanely rough to the mouth. She pulled out a jar and showed me the label. I had had my first moonshine cherry.
She had finished mixing up the drink and plopped a couple into the beverage and I took a sip. Lovely. This was her own concoction of a pomegranate martini that was really lovely.Pom liqueur, lime juice, vodka, orange juice and moonshine cherries. Being that we are both silly, as a nod to moonshine's southern roots, she adorned the glass with a giant plastic insect.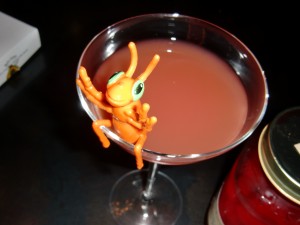 We sat at her table and as we enjoyed our drinks, she told me about a friend of hers that she had given a jar of the cherries. Turns out, her friend hid them from her husband because she liked them so much she wanted them to herself. One night, my friend was visiting their home and the woman kept sneaking moonshine cherries. Needless to say, she got a wee bit buzzed and went to the cupboard where she told her husband that he had to try these cherries. He asked "What cherries?" and the cat was out of the bag. He then asked my friend if she would let him know if more cherries were given. When he asked his wife why she had hidden them, she said "I just love them so much."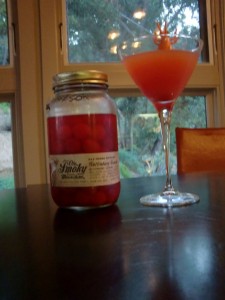 If you can find these babies, I say try them out.