Shaker One has been craving tacos all week.   Well, actually I've been craving my home made spicy salsa.  As I was making up a big batch of the stuff last night ( it's so good I will eat it by the spoonful), I wondered what would go with it.  I'm not a big beer drinker aside from the occasional Pacifico.    There was a partially consumed bottle of prosecco in the fridge, but prosecco and tacos?  I don't think so.
Then I spied my basket of citrus and had a brainstorm:
The Meyer Lemon Margarita~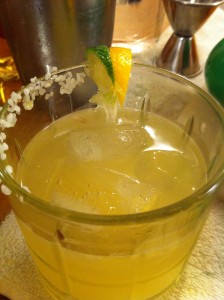 I pride myself with making an excellent margarita, always with fresh juice- no bottled "mix" stuff.  So I made a batch of half meyer lemon juice and half lime juice (both freshly squeezed).  Into the shaker that went with some tequila, triple sec and ice.
A note on the Triple Sec/Cointreau/Grand Marnier  debate:  I always have triple sec in the house.  I don't always have Cointreau or Grand Marnier.  That's often the deciding factor for me.  Now if you're making a fancy dessert by all means get yourself some GM.  And if you're having a taco party (Taco Party!!) and want to make your guests feel special, pick up a bottle of Cointreau.  It does have a more complex orange flavor than triple sec.      But in a pinch triple sec is fine.
Now back to the marg.  Shake that baby up, strain into a glass and choose your garnish.  I like my margaritas rocks/partial salt, so you can get a little hit of it if you choose without coming away with a mouthful on each sip.  Balance in all things.
I used the following proportions, but feel free to adjust your sweet/tart levels:
2 shots tequila
2 shots mixed meyer/lime juice (must be fresh)
1 to 1 1/2 shots triple sec
dash of orange bitters to finish and lime peel to garnish
Do note that the meyer is a sweeter lemon, so you won't need as much of the triple sec to balance it as you would with regular lemon.  And I did briefly consider making it will all meyer juice (no lime), but lime is such an integral component of a margarita that it just didn't feel right.
I took a sip and actually said "wow!".  Aloud.  This is one delicious twist on the classic margarita.  It is somehow fresher, with the sweetness of the meyer coming through nicely.  I'll be making these again, at least as long as the meyers hold out.
Cheers!