The (belated) arrival of true summer weather is met with varying degrees of enthusiasm from the two Shakers.  One thing we can agree on is that dinner tastes better outdoors.  Last night Shaker Two put together a lovely spread to officially open the Patio Bar for the season.
We dined on grilled rib eye steaks in a coffee rub (Shaker One was in heaven over this rub), herbed potatoes, grilled corn on the cob and a fabulous salad with candied pecans, goat cheese, mango and a poppy seed dressing…..yum.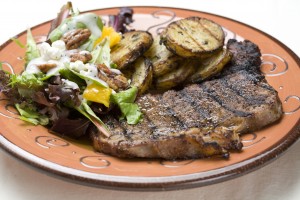 We finished up our relaxing meal with a sabayon meyer lemon tart with fresh strawberries from Shaker One.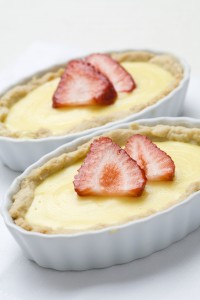 hope you all enjoy your weekend……oh, what??  You want to know if we had drinks?  Why yes, as a matter of fact we did!  how did you guess?
Shaker One as been gorging on fresh strawberries this season, so when I came across a couple of martini recipes involving strawberries and balsamic vinegar how could I resist??
First up was the Balsamic Vinegar Martini:
Simple and very pretty, but basically a vodka martini up with a lovely garnish.  As written 2 1/2 olives.
The Shakers decided to muddle this up with some extra balsamic and it was tasty!  3 1/2 olives muddled.

Next  is the Balsamic Martini by Jacopo Falleni: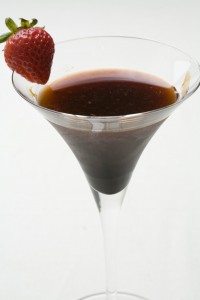 4 1/2 olives.  This is a must try.

I must admit this sounded like a rather odd combination to me, but I was curious enough to mix it up.  Shaker Two and I each took a sip and our eyes grew big and round.  Mr. Falleni- you are a genius.  This is beyond delicious.  The vanilla and lime (I used vanilla vodka instead of the vanilla rum he recommends) marry perfectly with the strawberries and balsamic and the balsamic glaze adds the perfect touch.  This is a fabulous martini, really creative and well worth the bit of effort in assembling/muddling.  Oh, we skipped making the cute sword garnish from the rind of a spaghetti squash like he did.
The Shakers are off to discover more recipes that embrace the flavors of the season……check back soon for more summer mixing and muddling~