Earlier this year, I was having dinner with clients at Ford's Filling Station. While bellying up to the bar waiting for our table, one of the bartenders suggested I give a try to a vodka they had started to carry – Tito's.
Tito's vodka…
"Tito's" is not a name of a vodka, it is the name of that LA landmark, Tito's Tacos.… or Tito Puente, the Latin jazz musician. Surely this was a jest.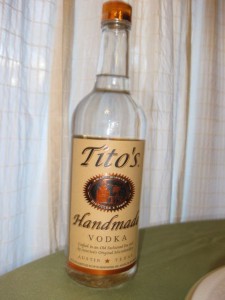 He then tells me it is from Texas. My home state which is the home of the best BBQ*, Blue Bell Ice Cream, Lone Star Beer, Whataburger and Tex Mex cuisine is now making vodka.
He met my dubiously raised eyebrow with a "trust me," then poured a sample and I drank. To my surprise it was really smooth with a hint of a bite to remind you that this is indeed 80 proof. Well done, my friend.
I stumbled onto Tito's again while at another client dinner, this restaurant has odd ideas of what they will and will not carry in their vodka's, but this time they had added Tito's to their selection. I had a couple dirty martinis and a glass straight on the rocks and was pleased with it all.
Turns out, Tito's is a small distillery in Texas started by Tito Beveridge (with a name like that, how can you NOT be in the spirits game?) His handmade flavored vodkas won double gold in the World Spirits Competition and he has been handcrafting his vodkas ever since. Check out the origin of Tito's on their site. I'm a fan.
Shaker One has concurred that this is a good permanent addition to the Shaker Bar. What we noticed is that this does well for a dirty martini, somewhere one of our stand-bys, Rain, just doesn't succeed. Excellent, I say. I am after all, a dirty girl at heart.
The Shaker's say check it out.
* This is my post and I'll make that claim if I want to. ~Shaker Two, the Texan. 😉