We love Spring.  Refreshing breezes, flowers blooming, and wonderful ingredients at the markets inspire us to think of new combinations.  The Shakers used a martini recipe test drive as a good opportunity to discuss our next project (stay tuned!).
But for now, we sampled 2 pear inspired martinis.
First up:
Ok, in the interest of full disclosure Shaker One is an admitted ginger freak.  And, though I never thought I'd utter these words- this recipe is too ginger centric.  Wow, that was painful to say out loud.  We tried, but just could not love this.  As stated?   1 1/2 olives.  Simply no pear profile in a Ginger Pear martini is not acceptable.

So we did that voodoo that we do so well and came up with:
Ginger Pear Martini-Shaker Style!
Now this is enjoyable.  I took the original recipe, dialed way back on the ginger, doubled the pear and pear syrup and added 2 ozs of Lillet Blanc.  We reached a solid 3 with this.  Still not outstanding, but at least we can enjoy the ride.
Next we moved on to –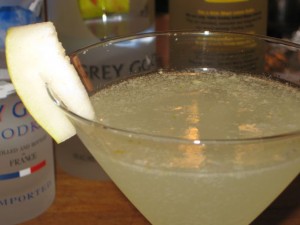 Wow Epicurious.com, really?  Two-sub par drinks in a row?  Who tests this stuff?
Shaker One here- I am a huge epicurious fan….they are my go to website for food recipes and I am rarely disappointed. I'm a bit shocked to find two stinker recipes in a row here.  I still <3 you, but your drink  is not good.
So the Shakers can't recommend these two tinis , but we still hold out the option for a nice pear martini.,  Just not the ones we tasted.
Take a pass on these two recipes. Check back with us soon.  The  Shakers will bring you some wonderful Spring  recipes….